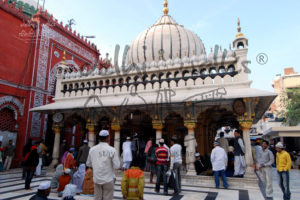 Nizamuddin Dargah is a few metres away from Amir Khusro's Tomb. Nizamuddin Auliya was a famous humanitarian Muslim Sufi and mystic saint. The original tomb no longer exists. The present structure was built in the mid 15th century by Faridun Khan, a nobleman. It was repaired and decorated by Feroz Shah Tughlaq and subsequent rulers. The majestic pavilion with marble arches and lattice screens or jails was added by Emperor Shah Jahan.
Hazrat Nizamuddin Aulia (d. 1325 A.D.) represents in many ways the pinnacle of the Chishti Order of the Sufis. Hazrat Baba Farid, his spiritual guide, said to him on appointing him as his successor: "Be like a big tree, so that Allah's creation, the human beings in their vast multitudes, may find rest and solace under your shadow."
This shrine also houses the tomb of Amir Khusrau, a famous poet and the saint's beloved disciple. Encroachments plaque the shrine and the area itself seem to belong to another century. The shrine was built by Muhammad Tughluq and is one of the sacred places of pilgrimage. Other tombs situated in the complex of the shrine belong to Begum Jahan Ara, Shah Jahan's favorite daughter and Mirza Ghalib. Every Thursday, one can hear qawwalis here around sunset.
Shaikh Nizamu'd-Din was born at Budaun in 1236. He came to Delhi with his mother and became the disciple of the famous saint Shaikh Farid Shakarganj. The rulers such as Ala-ud-Din Khalji and Muhammad Tughluq were devoted to him. It is said that he had already prophesized beforehand that city of Tughluqabad could never prosper and that Ghiyath-ud-Din Tughluq, who was then in Bengal, would never see Delhi again. He died in 1325. The original tomb has been renovated many times and the present tomb was built in 1562. The area around the tomb is regarded as sacred. Twice every year, 'urs' is held to commemorate the death anniversaries of Hazrat Nizamu'd-Din Auliya and Amir Khusrau.