Delhi Walks® was conceptualized keeping this vivid cultural weave in mind, the fact that there are enumerable structures and cultures that stand in and around the nooks and corners of Delhi, waiting to be explored on foot by people passionate about the city's heritage and diverse history. The vision involves curating earthy experiences that connect travelers with the city's colorful past, thus providing a context for the present day development of the city.
If you're ready to embark on an unforgettable journey through Delhi's past and present, book your spot on Dastan-e-Delhi® today. This immersive experience is not to be missed!
We Deliver Experiences® for residents and travellers across Delhi. Delhi Walks® offers unique experiences through DastanEDelhi®, catering to both locals and tourists in Delhi. The heritage walks are interconnected and viewed as integral parts of a larger narrative. This approach allows for a comprehensive understanding of the evolution of Delhi, leaving no aspect unexplored. As a result, each moment spent with us contributes to a more profound and meaningful interaction with the city, enhancing the overall experience.
Delhi is a cosmopolitan city and belongs to particular person or community. Its multicultural nature is the result of constant diaspora from other regions and cities of India and the world that influence Delhi in their own special way. The diversity of Delhi is visible in its food, language, clothes, culture, spirituality and architecture. The city has a lot to offer- so you need to decide what is new for you, attracts you and lures you enough to find time from your schedule to spend an entire day exploring this busy city. All you need to do is vouch for the right moments.
Are you ready for an adventure that will transport you back in time and immerse you in the rich culture and history of Delhi? Look no further than Dastan-e-Delhi®, a walking tour that will take you on a journey through the winding alleys and bustling markets of Old Delhi.
Led by knowledgeable and experienced guides from Delhi Walks®, this tour is perfect for anyone who wants to explore the city beyond its popular tourist attractions and uncover the hidden gems that make Delhi such a unique and fascinating destination. From ancient monuments like the Red Fort and Jama Masjid to lesser-known but equally captivating sites, Dastan-e-Delhi® will introduce you to the fascinating history of this vibrant city.
But this tour is more than just a history lesson. Along the way, you'll get to indulge in some of the best street food that Delhi has to offer, from sizzling kebabs to spicy chaat. You'll also have the chance to interact with locals and learn about their customs and traditions, giving you a deeper understanding of the social and cultural fabric of Delhi.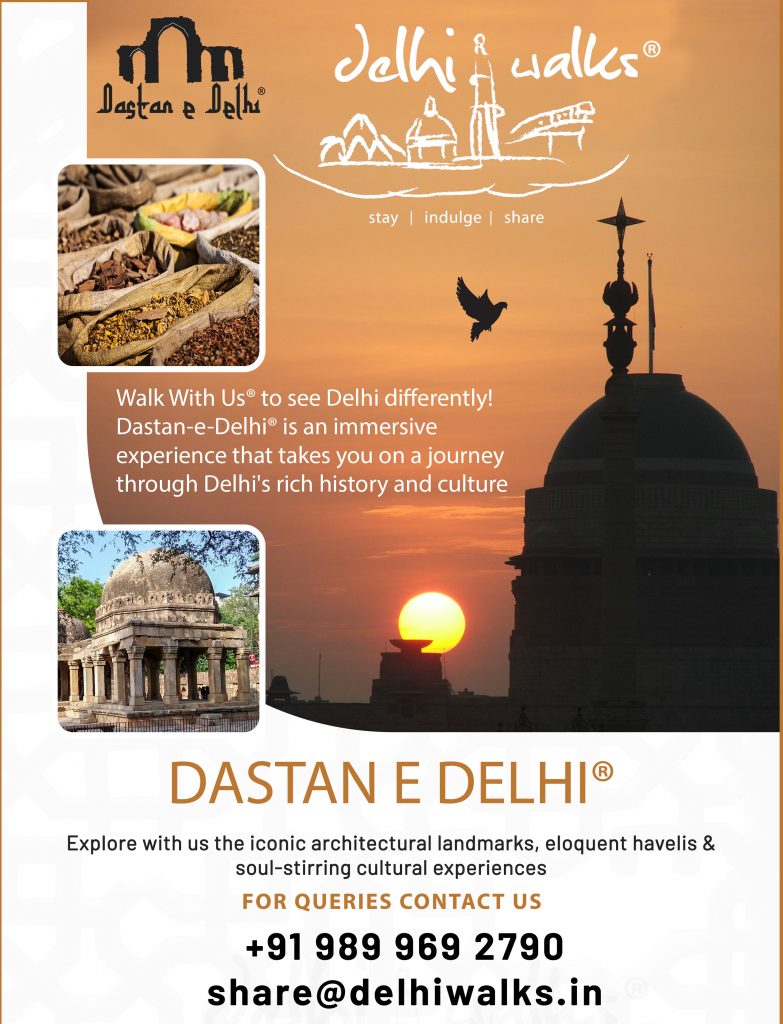 Dastan E Delhi® with Delhi Walks® celebrates the nuances of the capital city of Delhi, one of the most historic living cities of the world. Centuries have gone by, Emperors and empires have gone by, but their cities remain. Cross-cultures have come together to create the vibrant city of modern Delhi, and Delhi Walks takes you on a discovery of this multi-layered fabric. Our walks are tailor-made to take you through the nuances of this layered city.
During the Dastan-e-Delhi® tour, you will get to explore the ancient and medieval architecture of Delhi. The tour covers several historical sites, including the iconic Red Fort, Jama Masjid, Chandni Chowk, and other lesser-known but equally fascinating monuments that have stood the test of time. One of the highlights of the tour is the food experience. Old Delhi is known for its delectable street food, and Dastan-e-Delhi® offers you the opportunity to indulge in some of the best street food the city has to offer. From the mouth-watering kebabs to the spicy chaat, you will get to taste a variety of authentic street food that has been a part of Delhi's culinary culture for centuries. The tour also offers insights into the social and cultural fabric of Delhi. You will get to witness the local way of life, interact with the locals, and learn about their customs and traditions.
Dastan-e-Delhi® is an immersive experience that takes you on a journey through Delhi's rich history and culture. The tour is perfect for anyone who wants to explore the city beyond its popular tourist attractions and gain a deeper understanding of Delhi's cultural heritage.
We at Delhi Walks® strive to create memories to last a lifetime by delving beneath the surface of your chosen destination. We offer a range of fantastic tours in India, allowing you to experience these cities up close and explore the different cultures and exotic environments.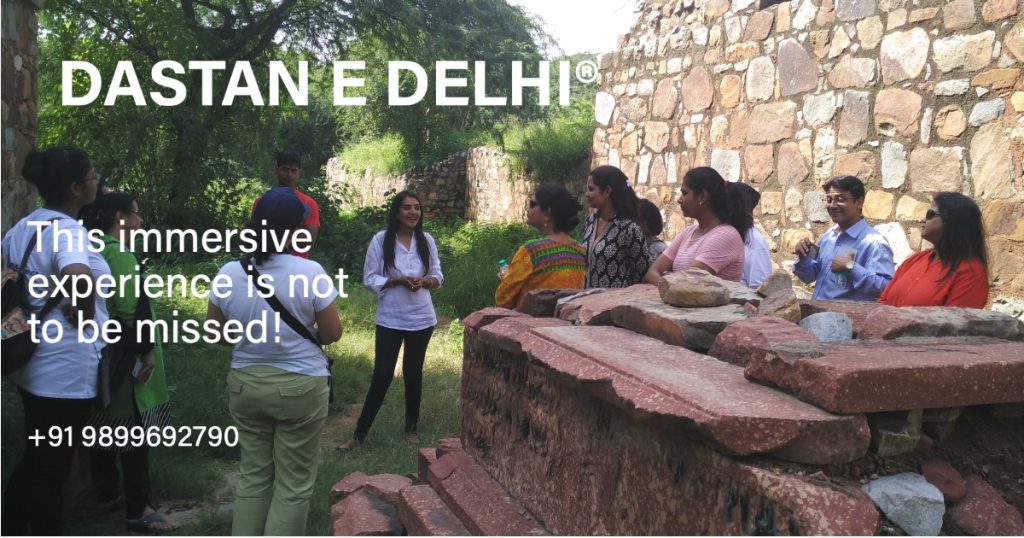 It's important to note that Dastan-e-Delhi® is not just any walking tour of Delhi. As a registered trademark, it represents the original and authentic experience that can only be delivered by the expert team at Delhi Walks®. So, if you're looking for a truly unique and unforgettable journey through the history and culture of Delhi, don't settle for imitations. Choose the genuine article with Dastan-e-Delhi® by Delhi Walks®.
We are expert in walking tours and we've earned a solid reputation for our passion, enthusiasm and importantly, our sense of showcasing the character of the city. Our team members are designated as Walk Leaders®, City Champion®, City Explorers®, City Mavericks®, Food Theorist®, Storywallah®, Kathakar® and Tourprenuer®. The locals onboarded as hosts are designated as Monument Friends®, Heritage Heroes™, Kathakar®, Heritage Enthusiasts® and Heritage Walk Leader®. Our tourism ecosystem endure value through culture and heritage and involve communities to reveal India's past.
We operate under the umbrella National Award Winning brand INDIA CITY WALKS and our selection of walks offer spectacular city experiences in Delhi. Some of our famous verticals are India Heritage Walks®, Storytellers of India®, India With Locals®, India Food Trails™, Spirited Tales®, Water Heritage®, Varanasi Heritage Walks®, Delhi Walks®, and more.
Feel free to contact us in order to find out which walk suits you best. You can reach us through email share@delhiwalks.in or call us +91 989 969 2790 during weekends and holidays or fill the contact form.
At the heart of our work lies a deep passion for exploring DELHI and all it has to offer, and we take great pleasure in sharing our enthusiasm with you!