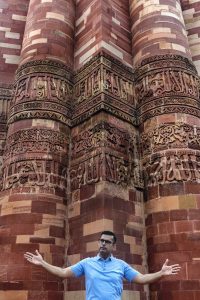 A Journey through India's Capital with Sachin Bansal- Founder & Chief Explorer®
Delhi, India's capital city, is a melting pot of culture, history, and modernity. With a rich past dating back over 5,000 years, Delhi offers a wealth of opportunities for visitors to explore its rich heritage and cultural diversity. And who better to guide them on this journey than Sachin Bansal, the chief explorer of Delhi Walks®.
Delhi Walks® is a unique concept that takes visitors on a journey through the streets of Delhi, offering an immersive experience of the city's history and culture. Led by expert guides, these walks are designed to provide a comprehensive understanding of Delhi's heritage and its evolution over the years.
Sachin Bansal, a Delhi-based entrepreneur, founded Delhi Walks® in 2010 with a vision to provide travellers with an authentic and immersive experience of the city. He strongly believed that the best way to explore Delhi was on foot, and thus, Delhi Walks® was born. Under Sachin's leadership, Delhi Walks® has grown to become one of the leading tour operators in India, offering a range of walks covering different aspects of Delhi's heritage and culture. Whether it's exploring the city's ancient monuments, discovering its street food, or learning about its rich history, Delhi Walks® has something for everyone.
One of the most popular walks offered by Delhi Walks® is the Old Delhi Heritage Walk. This walk takes visitors through the bustling streets of the city's old quarter, offering a glimpse into its rich cultural heritage. The walk starts at the Jama Masjid, one of the largest mosques in India, and takes visitors through the narrow lanes of the old city, stopping at various landmarks such as the Red Fort, the Fatehpuri Masjid, and the Dariba Kalan, a street renowned for its jewellery shops.
Another popular theme is the Culinary Walks®, where visitors can savour the city's famous street food, including chaat, kulfi, and paratha. The walk starts in the Chandni Chowk area, one of the busiest marketplaces in the city, and takes visitors through its narrow lanes, where they can sample some of the best street food Delhi has to offer. Sachin curates special EATINERARY® for visitors looking for something special.
Delhi Walks® also offers a number of special interests walks, including the Mughal Walk, which explores the city's Mughal heritage, and the Bazaars of Old Delhi Walk, which takes visitors on a journey through the city's traditional markets.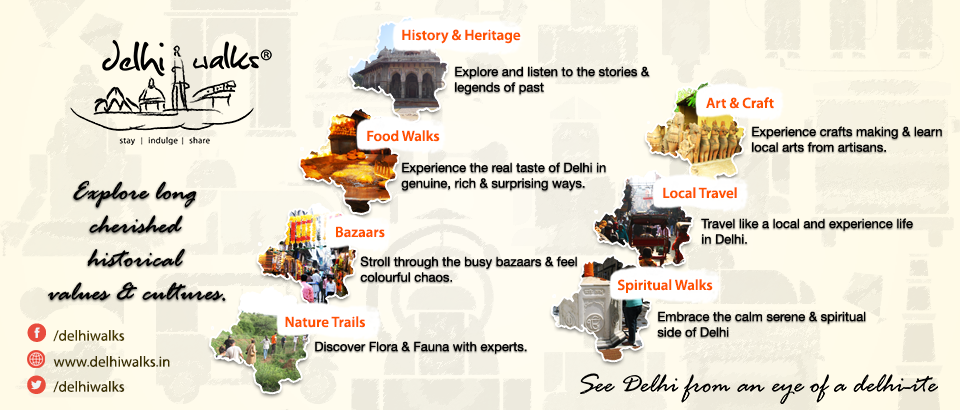 What sets Delhi Walks® apart is the expertise of its city explorers® and kathakar® who are knowledgeable and passionate about the city and its heritage. They offer a unique and personal perspective on the city, and their stories and anecdotes bring Delhi's rich history to life.
Sachin's commitment to preserving and promoting Delhi's heritage is evident in the quality of the walks offered by Delhi Walks®. He has ensured that each walk is carefully curated, taking into account the needs and interests of visitors.
Delhi Walks® is a must-do for anyone visiting Delhi. With Sachin Bansal at the helm, visitors can be sure of a memorable and authentic experience of the city. Whether you're a history buff, a foodie, or just someone looking for a unique way to explore Delhi, Delhi Walks® has something to offer. So, put on your walking shoes and join Sachin on a journey through the streets of India's capital. On our walking tours, discover vibrant, colourful places in Delhi and enjoy food tastings, rickshaw rides, encounters with the locals and many more special interest authentic experiences.
Sachin has exhibited strategic leadership with a visionary approach in Indian tourism sector by creating multiple flagships in the area of culture & heritage. He has utilized the design thinking approach for  harnessing new markets, thereby setting and redefining future standards through intellectual properties. With two decades of work experience and as a destination branding specialist, he has enabled co-creation with host communities to deliver exceptional experiences® and created impact through skill development initiatives. Sachin is the Founder of 'City Explorers® (a Private Limited in India) having verticals such as India City Walks@, India with Locals®, India Heritage Walks®, India Experiences™, Storytellers of India®, Regenerative Travel® and more. The ultimate aim of Sachin is to bring uniqueness in itineraries for visitors to connect with India through experiential offerings within a short timeframe. Walk With Us® to explore historic past with intercultural dialogue and feel immersive vibe 
Sachin creates deeper understanding of Indian heritage and culture and engage local population. He loves building connections between people, places and culture and welcome opportunity to share knowledge. You can request time from Sachin by sending an email on share@delhiwalks.in or call us on +91 9899692790