Holi is a festival that Indians look forward to the most. It is that one day of the year when everybody- old and young, rich and poor, is in their best of spirits to celebrate and enjoy this festival. Holi not only marks the beginning of spring for Indians, but it also symbolizes the feeling of love, harmony and belongingness for fellow humans. The colors we color each other in stand for the love and respect we have for each other.
Delhi is the cultural hub of India and every festival here gets a different flavor as the city sees a coming together of people from different cultures and different corners of the country. All these people bring with them their own rituals and ways of celebrating the festival and gives the festival a unique character. For an international tourist, to be able to witness and enjoy Holi in Delhi would be a completely new and exotic experience. But at the same time, there are safety concerns that give birth to inhibitions in the tourists' mind regarding the festival. Keeping all of this in mind, Delhi Walks, a specialty vertical of India City Walks organized a group tour on Holi, for people who wanted to witness the colors of Holi in the city. With a group of ten tourists from different parts of the world, we started with what we call the Holi Walk.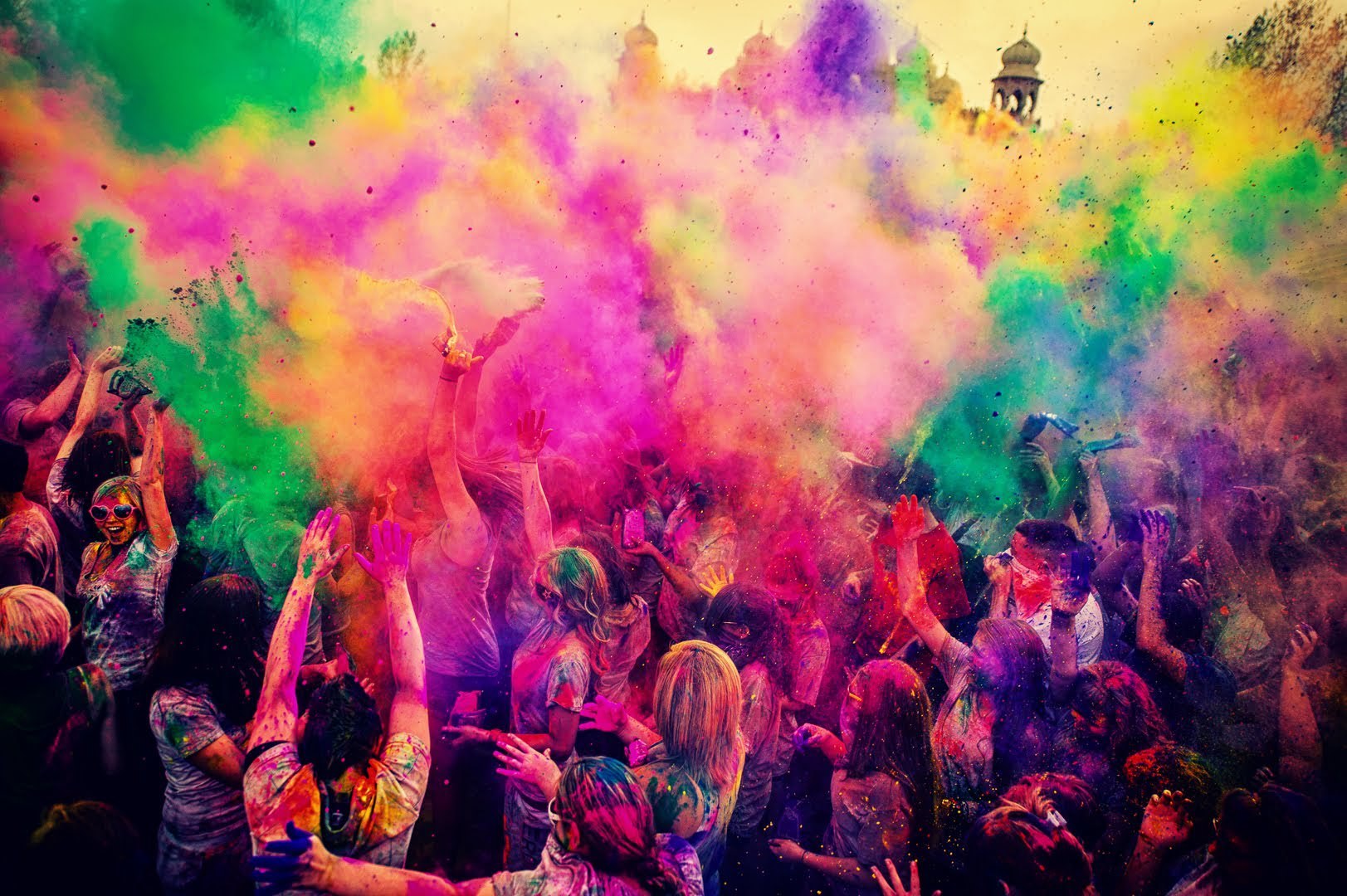 We all met at Karol Bagh metro station and boarded an AC coach to go through the various lanes and streets of Delhi and experience the many hues and shades of Delhi. We were to go to Karol Bagh, Rajendra Nagar and Kailash Colony to have a look at Delhites celebrating Holi. We also planned to tell the tourist the story of Holi with all its history, mythology and legends and give them a taste of delicacies that are prepared for this special day. The priority for us was to give the tourists a safe, exciting and never-before experience.
We saw people all drowned in Holi masti at all these places. People were playing colors and gulaal on the streets and all faces were covered with many many colors. All divides of sex, religion, status ceased to exist in the celebrations. We also saw people enjoying Holi parties at various places and having a god time with colors, music and food. Children were the most fun to look at. They looked very excited with colors, water balloons and pichkaris and they seemed to be very excited. And, thei excitement was infectious; looking at everybody play Holi, we all wanted to get out there and play with colors. And to do exactly that, we stopped at India Gate. There was a group of people at India Gate, who were playing Holi and we joined them. We had made arrangements for colors and gulaal for the tourists beforehand and the Holi playing was very much fun and intoxicating for all of us. In no time, we were all throwing colored water at each other and running around the whole place.
Playing Holi was exciting as well as tiring. But the excitement won over the tiredness we had. With the excitement and energy we had in our hearts, we stopped at a café in Kailsah Colony for a cup of coffee and some food. And then came the big surprise for the tourists, a rain dance party. We had organized a rain dance party for them to give them the feel of dancing on bollywood and Holi songs. The rain dance was really enjoyed by all of us.
With the rain dance, the Holi Walk came to an end. We all said our goodbyes to each other with lots of memories that will be cherished for a long time to come. The walk was a real experience for the tourists, which cant be gained by reading or listening or talking about it. This was an experience that can only be lived, that can only be felt. We created an experience for the travelers, who wanted to live and explore Holi. The bestpart about the walk was that it was safe, well planned and gave the tourists a panorama experience of Holi complete with its story, food, colors and fun.