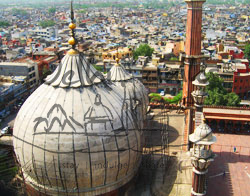 Jama Masjid is one of the most favorite and most visited tourist attractions in Delhi as well as whole of India. This architectural marvel was also built by the Mughal emperor Shah Jahan. The mosque which is one of the largest and oldest in India is open on all days for tourist except during the prayer intervals. Shah Jahan built the mosque in 1658 opposite to the Red Fort to be his primal worship site.
Ustad Khalil was the chief architect of Jama Masjid who took care of each and every wall, every inlay work and even smaller and minor details to make sure that the monument turns out to be the finest and eventually it did. The monument which means "the mosque that commands a view of the world" was eventually named Jama Masjid, 'Jama' means Friday – the holy day for the Muslims and hence the name 'Jama Masjid' was coined.
The mosque stands on a raised platform with three double storied gates opening in north, south and east directions. The masjid which uses black and white marbles along with red sandstone in tits decoration is about 80 meters long and 27 meters wide and 130 feet in height. The roof is entirely covered with black and white marbles and gold. In the 100 square meters of courtyard around 25000 people can pray at one time.
The main prayer hall is decorated with structures made out of marble and with the detailed history of the mosque inscribed on them. The northeastern parts seats the elaboration of Quran in Deer Skin along with the relics of Prophet Muhammad, this is why this area is also the holiest part of the mosque. One of best experiences other than the mosque itself is the view of Old Delhi and the areas around it from the southern minaret. The steps are steep and walls are narrow and very close to each other. With more than 90 steps the minaret gives one of the bets and awesome views of Old Delhi. You can also see the outer boundary of Red fort running along actually get an idea that how really big the fort is.
The "City of Shahjahan" is the perfect walk for everyone who is looking for an out of the world experience to explore the old city of Delhi. Delhi Walks's this Old Delhi walk is one of the favorites and must attend walking tour.