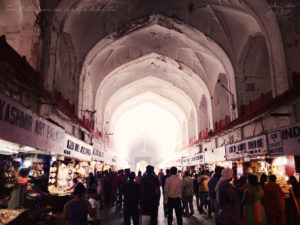 Delhi is popular for its wild, shambolic and muddled persona. Even though it is exasperating for those living here, it is undoubtedly Delhi's charm. From busy roads to narrow lanes of Old Delhi, the wide variety of shopping stores, art and architectural heritage, spiritual centres, customs, culture, language all create a holistic picture of Delhi that is harmonious, sporty, lively, enchanting, mystic, and spiritual. While Old Delhi offers a lively market with colourful clothes and products; Connaught Place offers a good number of options in terms of shopping stores and state emporiums to choose from. The eclectic picture of Delhi is a result of the emergence and nemesis of various belief systems, rituals, life, death and new ways of life.
Our team of City Explorers are unsurpassed in knowledge and ensure that your walking tour exceeds your expectations. We at Delhi Walks would be delighted to be of assistance in planning and executing all your sightseeing requirements.
The fame of Delhi is not confined to it being the proud capital of India but extends to include its hoary historical antiquity and a fast growing city in the world. A description of Delhi is incomplete without talking about its neighbouring city Gurgaon. Gurgaon like Delhi has attracted a generous amount of tourists to Kurukshetra- the land of the ancient Mahabharata war, the rich Sultanpur Bird Sanctuary, the Karna Lake and the tranquil Damdama Lake. These attractions exhibit the imposing history and culture of Gurgaon.
Gurgaon the thriving MNC and IT hub of India has a historical past. It is named after Guru Dronacharya, a man who taught the art of warfare to the heroes of Mahabharata, the Pandavas. Owing to its historical past the city was named Guru Gaon or Guru Gram meaning "Teacher's Village". Although Gurgaon is known for its fast development, business houses, MNC's and IT firms it has a different charm away from these modern developments. A charm that is percolated to Delhi through the well knitted metro railway. Today Gurgaon is a densely populated city with its own culture, economy and tourist attraction.
Delhi is a cosmopolitan city and belongs to particular person or community. Its multicultural nature is the result of constant diaspora from other regions and cities of India and the world that influence Delhi in their own special way. The diversity of Delhi is visible in its food, language, clothes, culture, spirituality and architecture. The city has a lot to offer- so you need to decide what is new for you, attracts you and lures you enough to find time from your schedule to spend an entire day exploring this busy city. All you need to do is vouch for the right moments.
The best time to know Old Delhi is to traverse the muddles and cycle through the area, especially early morning to experience the dawn of Delhi and also visit the picturesque monuments in the calm of the morning when the roads are empty, the breeze is pleasant, very different from the usual Delhi ways. Millions of people have spent their lifetime in Delhi and are well acquainted with each and every corner of the city. Whether it's the messy lanes of Old Delhi or the well kempt newly built Lutyens Delhi, the idea is not to just visit these places but to experience them in the right moments.
Try walking from the holy shrine of saint Nizam-ud-din Auliya famously known as the Hazrat Nizammudin dargah to Humayun's tomb in the brahma-muhurta. Experience the same roads and places in a different moment, one that is quiet and calm, beautiful and serine, amazing and miraculous. Delhi is a giant city that has a lot to offer, from history, culture, shrines, cuisines and lifestyles. The idea is to capture these moments in possibly the best way imagined.
Delhi is best known for its delicious food. If you are a foodie you cannot miss the beautiful offerings in the month of Ramzaan. It is a beautiful time to be in Delhi, in fact a perfect one for the foodies to relish the delicacies of iftar. The chandini chowk-Jama Masjid area of Old Delhi is the ideal destination during the months of Ramzaan. Walk through the busy alleyways of Jama Masjid to experience the whole process of iftar.
During the Independence Day of India, a moment for celebrating the emancipation of colonial rule and paying tribute to martyrs who gave away their lives for our country's freedom. Irrespective of the contemporary scenario, we owe to them for our independence and the upcoming bright future of our country.
A culture associated with Independence day in Delhi is "Patangbazi" i.e., kite flying. When in Delhi do not forget to be a part of this celebration of freedom- literally celebrated by "flying" kites. It is a much awaited event for Delhiites, whether kids or grown-ups. Gather on your terrace or in parks around India Gate, Red Fort, Ramlila to experience this wonderful display of independence.
Explore your spiritual sides in the sacred landscape of Delhi which is dotted by innumerable shrines to diverse faiths. Understand your inner conscience and the world around you by becoming a part of this landscape. Spirituality is not necessarily about religion but about enlightenment, keeping positive and living courageously. Experience traditional spirituality in Delhi by visiting the various old and new shrines found throughout Delhi. Rediscover the philosophy of "Tat Tvam Asi" or "Thou Art that" while exploring this side of Delhi which proves that God and self are one.
The talk about Delhi can go on endlessly because there is no limit to it. The plethora of things that this city offers is so much that sometimes it is bewildering even for the locals to learn about their cultural and history legacy which is more than 2000 years old.
It is exciting to keep talking about Delhi because of the charm this city has. Even more exciting is to witness and experience all these things in the right moment. So, if at the moment you feel like you want to know this enchanting city more please take some time off and explore the city us at Delhi Walks.
We are expert in walking tours and we've earned a solid reputation for our passion, enthusiasm and importantly, our sense of showcasing the character of the city.
We operate under the umbrella National Award Winning brand INDIA CITY WALKS and our selection of walks offer spectacular city experiences in Delhi and across India.
Feel free to contact us in order to find out which walk suits you best. You can reach us through email share@delhiwalks.in or give us a call +91 989 969 2790 during weekends and holidays or fill the contact form.
We are passionate about travel and love to talk about it with you!