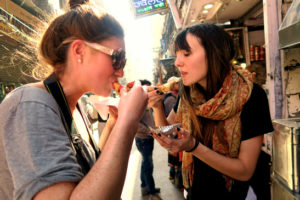 Delhi with its rich history over the centuries and diaspora has developed a culinary and cultural heritage that reflects on its influences from the past. In the contemporary times too, the diversity of the country facilitated interaction between the regions greatly influencing each other, not just in terms of cuisines but also lifestyle, culture, language.
We create one of kind travel itineraries of exceptional reach and depth that embrace traditional food, customs & elegant culinary activities that take place in Indian kitchens.
While the old Delhi area, erstwhile Shahjahanabad bespeaks of its rich culinary past, Dilli Haat manifests the food diversity of India.
With our Street Food walks we provide our visitors a gastronomic experience taking them through the old Delhi area for exotic cuisines like, the Paranthewali Gali for different varieties of stuffed paranthas, Jama Masjid area for gourmet non vegetarian items- Tandoori to Mughalai cuisines. For a spicy street food experience, the chaat Corner near Chandini Chowk metro station and to satiate the sweet tooths, Rabri Faludas at Giani's near Fatehpuri Masjid.
Explore the exotic India and get a chance to meet some of the chefs, bakers and local people who have been carrying this tradition for generations with our tailor-made street food walks. Also seek a chance to see and learn how to prepare these wonderful cuisines.
Our team of City Explorers are unsurpassed in knowledge and ensure that your walking tour exceeds your expectations. We at Delhi Walks would be delighted to be of assistance in planning and executing all your sightseeing requirements.
Explore Delhi's vibrant soul with our guided food walks for gastronomic adventures, learning and enjoyment.
We operate under the umbrella National Award Winning brand INDIA CITY WALKS and our selection of walks offer spectacular city experiences in Delhi and across India.
Feel free to contact us in order to find out which walk suits you best. You can reach us through email share@delhiwalks.in during weekends and holidays or fill the contact form.
We are passionate about travel and love to talk about it with you!