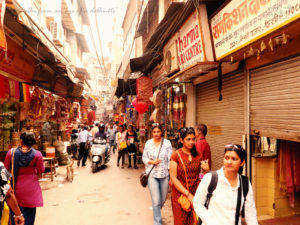 Delhi has always held a special allure for global visitors – thousands stayed on and became Indians! With its amalgamation of diverse cultures, ancient monuments, beautiful parks, broad avenues, bustling markets and shops, the labyrinth of Old Delhi's lanes, a vibrant nightlife, its inherently friendly, welcoming people and much more, Delhi is assuredly an awaiting kaleidoscope of experiences.
Many a tourist has been enthralled and captivated by Delhi's vast historical, cultural, culinary and shopping experiences. This city offers its visitors everything from revered temples and mosques to massive, daunting forts, multihued markets to budding parks, not forgetting the pulsating nightlife of Delhi.
Let's now talk about the life in Delhi, about the people, the places and everything Delhi is about.
Delhi is expansive in its offerings of hotel accommodation categories – suited to each and every explorer's needs and budget. Royal treatment, excellent hospitality and an outstanding range of services are features of today's Delhi accommodation providers – bringing guests back time and time again. The hotels of Delhi are located throughout this great metropolis – from Lutyen's masterpiece of city planning, around Connaught Place and Chanakyapuri, to the lanes of Chandni Chowk.
There are many places is Delhi to visit, the famous Mughal monuments, the towers, minarets and pillars, the markets, the temples which hold their name in Guinness Book of World Records, famous churches, gurudwaras and mosques. The museums and art and craft galleries, the architectural master pieces built during the British Raj. But that is not it, besides that city has many places to visit which are less known but are of equal importance and value.
Shopping and mall culture in Delhi has changed the way people used to shop earlier. There are new shopping complexes and malls in Delhi where you can find all your shopping requirements under one roof. It has a large number of shopping places; all varying from cheapest to costliest, local to brand and almost anything you can think of. Besides shopping malls and shopping centres, there are many markets and some of them are one of the best markets in the country and even some of the best markets in Asia.
Chandni Chowk and Connaught Place are the oldest markets in Delhi. Chandini Chowk is the oldest and most famous market in Old Delhi and is also often mentioned as the haven of shopaholics who prefer bargaining. Khan Market is one of the costliest markets in Asia and is preferred by the elite class living here.  There are some trendy markets which are available in Sarojini Nagar, Lajpat Nagar, South- Ex and Karol Bagh. Sarojini Nagar market is famous for its designer and latest fashion clothes while south extension market is known because of its exclusive showrooms.
Night life in Delhi is another addition to the new lifestyle being embraced by the people of Delhi. Night clubs in the city open till late night and you can eat, drink along with enjoying dance on the floor. There are a number of recreational spots which includes pubs, bars, discotheques, coffee joints where the atmosphere becomes stimulating as the night grows.
For instance Djinns at Ring Road, Shalom is yet another highly popular disco cum bar located at Greater. Others include India International Centre at Max Mueller Marg and India Habitat Centre at Lodhi Road. CJ's, RPM, Float, Capitol are among the other happening joints.
Some famous bars in Delhi includes: The Maurya Sheraton, Diplomatic Enclave, Henri's, Windsor Place, Cavalry Bar, Civil Lines, Rick's, Blues, Buzz, Geoffrey's, Gola, Tuskers, Golden Dragon. The Tavern on Janpath Road is a restaurant cum bar whereby every evening live performance by famous Indian musicians entertains the crowd.
If you want to get hold of a cup of Cappuccino or Espresso at Barista, Diva, Machan and the Patio. 'Neighborhood' has in its menu list both Chinese and Continental stuffs besides coffee, tea and beer.
There is so much to Delhi that cannot be just described in words. Living in Delhi is living an era, a feeling that is none like any other. Even though Delhi has been in controversies and news for the quality of life and the safety issues but still it is the city of people with hearts, with love, affection and enthusiasm.