Whether you're celebrating a successful quarter or planning to motivate your team or wanting team members to spend time together outside of the office, we have the walk for you. The corporate walks can be personalized to meet your requirements and shortened if time is an issue.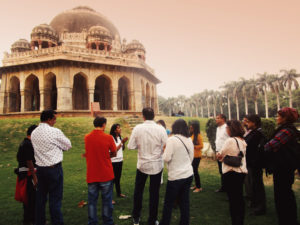 We regularly organise walks for corporate groups, providing a memorable way for attendees to get to know India and each other. Whether you want us to completely arrange a full day walk or a time saving half day walk, cultural experience or a time out from busy and hectic schedule, we can deliver private, group and special interest walks for corporate making your visit an unforgettable beautiful memory.
The hosts are designated as Monument Friends®, Heritage Heroes™, Kathakar®, Heritage Enthusiasts®, Tourprenuer® and Heritage Walk Leader®. Our tourism ecosystem endure value through culture and heritage and involve communities to reveal India's past. Walk With Us® for exceptional experiences® and know Delhi differently. The responsible tourism factor is adhered by abiding delivery mantra 'LEAVE NO FOOTPRINTS BY CITY EXPLORERS®' managed on-ground and digitally through Virtual Explorer®.
Connect with us through email nidhi(at)indiacitywalks.com or give us a call +91 989 969 2790