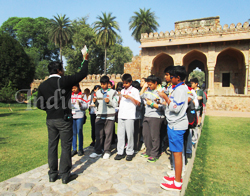 Let us design an experience that you will love! There is so much to Delhi that just cannot be described in words. Living in Delhi is like living in an era of cultural enigma, a feeling that is incomparable to any other. Unlike the view obtained through the windows of a bus, a traveller who walks gets to move at his own pace. There is time to smell the flowers, stop and chat with locals and marvel at nature's majestic landscapes and man's astounding artwork. This has been our belief, and that is how we try to share our knowledge, experience and culture with everyone. A walk for us is not just a tour but an experience we wish to share with all of you.
It's important that we share our experiences, stories with other people. Our story and your story put together make the city come to life! If sharing was caring – Delhi Walks believes doing the same. We share with you the city life in the city light.
Join us to make this walk more than just a memory, just an experience! Delhi has always been closest to our heart, not just because it has so many things to offer, or because it is one of the most sought out destinations in the world, some may call it the "Imperial City" but because we love the feeling that every time we visit the city there is something different to experience. We would love to share our passion with you.
Every nook and corner is thriving to tell us its story, and we are committed to share with you and walk you through all these tales and legends.