The popular picture of Delhi is messy, chaotic and busy. A city which on the one hand is the capital of our country, home to several business houses, fashion houses, pubs, clubs, cultural and educational centers and on the other hand has a rich cultural and historical past that reminds of its glorious past.
We are expert in family city sightseeing and we've earned a solid reputation for our passion, enthusiasm and importantly, our sense of showcasing the character of the city.
We operate under the umbrella National Award Winning brand INDIA CITY WALKS and our selection of walks offer spectacular city experiences in Delhi and across India.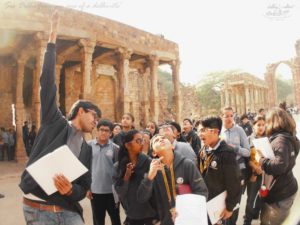 Does this means Delhi has nothing to offer its curious young minds? Of course not. If Delhi has places like historical monuments, museums, old bazaars, shopping complexes, pubs and discos for the millennials' and older generation it has parks, museums and recreational spots for kids which can also be enjoyed by others.
Let's have a look at these places:
National Rail Museum: Given the special bond between the younger ones and trains this destination is a must visit when in Delhi. It has a number of objects that is sure to engage your child- innumerable train replicas, models and miniature toy trains would be heaven for the kids.
Dilli Haat: Yes we know it's a market but we guarantee you there is a lot to learn from this place. You will not regret taking your child here. The market is not ordinary but an amalgamation of Indian culture, food, clothes and performances in the form of various stalls that represents the states of our country. Besides the colourful environ and crowd is sure to amuse your child.
National Science Centre: The National Science Centre is a museum that has various galleries for different age groups, like the Heritage and the Dinosaur Gallery, the Human Biology Gallery, Fun Science Library etc. A number of displays at the museum explain the laws of Physics. The museum offers the first multimedia center of the country called Cyberkool. This paradise for children requires one full day for visit.
India Gate: If your child wants to spend their holiday outdoor India gate is the best place to visit. The memorial park and lawns attached to the monument can be well utilised for playing games and carrying out fun activities. Cycling, cricket and kite flying are a few activities usually seen at India Gate.
Nehru Planetarium: Everyone is curious about space, stars, planets and galaxies- grown-ups as much as kids. Give yourself and your child a few hours to visit the Nehru planetarium to increase you knowledge about astronomy when in the city.
National Zoological Park: Witness the flora and fauna of Delhi at this Zoological Park. It boasts 1400 animals representing 130 species of animals and birds. This huge animal retreat is sure to entertain your child.
Our team of City Explorers® are unsurpassed in knowledge and ensure that your tour exceeds your expectations. We at Delhi Walks® would be delighted to be of assistance in planning and executing all your sightseeing requirements. The hosts are designated as Monument Friends®, Heritage Heroes™, Kathakar®, Heritage Enthusiasts®, Tourprenuer® and Heritage Walk Leader®. Our tourism ecosystem endure value through culture and heritage and involve communities to reveal India's past. Walk With Us® for exceptional experiences® and know Delhi differently. The responsible tourism factor is adhered by abiding delivery mantra 'LEAVE NO FOOTPRINTS BY CITY EXPLORERS®' managed on-ground and digitally through Virtual Explorer®.
Feel free to contact us in order to find out which walk suits you best. You can reach us through email share@delhiwalks.in during weekends and holidays or fill the contact form.
We are passionate about travel and love to talk about it with you!